Occasionally, the standard set-up won't meet the needs of customers in the market for an industrial chiller. When that is the case, custom design is needed. There are numerous benefits of custom-built industrial chillers, such as meeting special placement considerations and accommodations for a specific process or industry.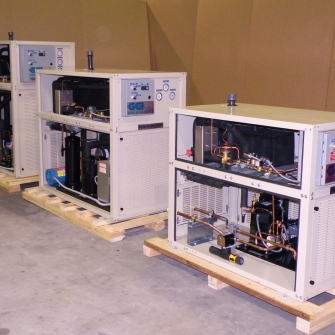 Chiller Sizing and Configuration
Sometimes a workspace dictates a chiller be located in an area that might not be the best spot for a standard machine. However, chillers can be custom built to fit nearly any setup, including unique installations within a complex system or adjacent to other large equipment.
Custom Chiller Features
Custom chillers often include add-ons and modifications, such as:
Response to remote sensors for increased efficiency
Remote controls to allow long-range control of the chiller
Special pumps to enable higher or lower pressure flows
Dual refrigeration system for varying workload and redundancy
Buyers can even request company-specific colors and finishes for the exterior of their chillers for a truly customized look.
Chiller Environment Concerns
Some buyers may fear the possibility of corrosion, especially for chillers performing more physically demanding applications in food, pharmaceuticals, biotechnology, plastics and rubber, and oil and gas refineries. Most standard chillers come with stainless steel frames and covers and can be fitted with cupronickel if seawater is a concern or plastic piping for deionized water.
Some industries may demand chillers to perform at extreme temperatures. Through slight modification of the equipment, almost any temperature range can be accommodated.
Industrial chillers are needed for a wide variety of industries and applications, so there shouldn't be a one-size-fits-all model. Because of this, GCI Refrigeration Technologies creates custom-built industrial chillers to meet our clients' needs. Our team can design, build, and install to your specifications. To learn more, request information or call 225-926-6950 today.