Chillers play a critical role in maintaining consistent temperatures for food storage and processing. From dairy and bakery products to beer and wine, many of our most popular food and beverage items require chillers during multiple stages of the production chain. At GCI Refrigeration Technologies, we custom-build our industrial chillers to handle high volumes and varying fluctuations of heat loads, which are common needs for the safe production of food products. You'll never have to shop from a catalog, and we conduct a thorough on-boarding process with all new clients to understand your business before we design anything.
Chillers for Food Production and Storage
We will help you determine the best features available in our heavy-duty chillers to design and ship a unit ready for installation at your facility. Our water-cooled chillers are ideal for productions that require large amounts of chilled water and can help prevent bacteria growth while cutting energy costs. We offer a hot gas bypass and dual compressor options to help create more precise temperature controls with varying heat loads. By using stainless steel frames, pumps, and tanks, your system will be completely corrosion-resistant and durable enough to handle the most demanding work environments. If your facility requires unique configurations, remote sensors, or special electrical specifications, we can engineer an entirely custom chiller from the ground up.
Some of the most common food and beverage productions we can work with include:
Beer
Dairy
Chocolate
Produce
Bakery items
Wine and spirits
Reconstituted pork and chicken meat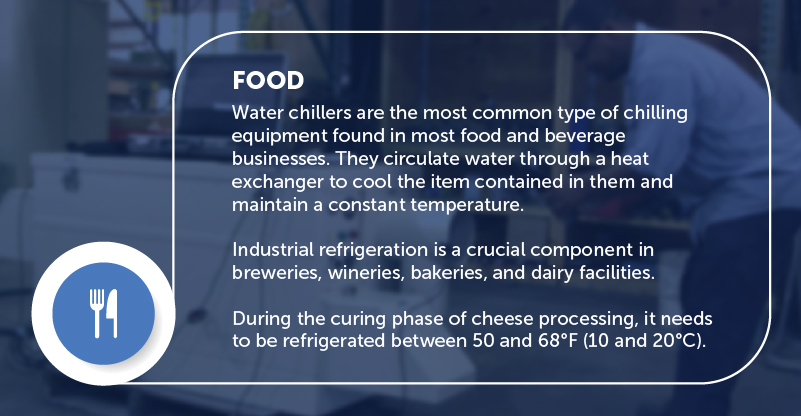 Choose GCI Refrigeration for Your Food Chiller
We've been in the refrigeration business since 1965 serving global leaders in food and beverage production, including customers like Green Giant and Coors Brewing Company. We understand the regulations of the food industry and our in-house engineering team designs and tests every unit for precision. Our Icewagon™ Chillers are configured to your operations and can be built to fit any budget. Get started on your custom project today—give us a call at 225-926-6950 to speak with a refrigeration expert.