Individually-customized, but built with standard components
GCI Refrigeration Technologies designs and builds industrial cooling systems for a range of applications, including industries with some of the most demanding needs. Constructed from standard components with a custom build designed specifically for each client, DH Series Icewagon™ chillers perform over a broad range of capacities.
Types of Water-Condensing Chillers
Our custom-built DH Series Icewagon™ chillers are available with up to a 44-gallon tank capacity and cooling capacity of up to 12 million BTU at 50°F. We offer both low-temperature models and models with extra-low temperatures down to -50°F. When it comes to choosing the most appropriate system and outfitting it for your needs, you have the benefit of dealing directly with our factory through our ChillersDirect™ program. Our experts will make sure your unit is the right capacity with the features you need for your most important industrial cooling functions.
All machines are fully tested to your operating conditions before they leave our plant. Icewagon™ chillers are shipped ready to hook up and run. The installation process is simple and normally only involves electrical and liquid connections. If you need help, we provide free telephone support. To start building your industrial cooling system from GCI Refrigeration Technologies, request a quote online or call 225-926-6950 to speak to a refrigeration expert.
Available in both air-condensing and water-condensing designs, DH air-cooled chillers are built to assure reliable operation for years to come. Some of the key features integrated into our systems include:
FEATURES
Steel frame and covers: This durable design prevents impact damage and includes removable steel panels that allow access for routine inspection and maintenance. The compact design can be outfitted with asters or mounting pads.
Available dual compressor: Clients can opt for a unit with both a dual-circuit evaporator and a dual-circuit condenser, wired for lead-lag performance so that one or both systems can operate as the heat load varies with seasonal temperatures. This design increases flexibility while conserving electricity. For the most critical applications, total redundancy is available with complete dual systems within the same machine using a PLC control. Some models are available with up to four compressors.
Hot gas bypass: This feature eliminates the constant on-off compressor short-cycling that results in excessive component wear and unnecessary electric power usage. This design also delivers more precise temperature control.
Job-specific evaporators: Each system has an evaporator selected specifically for your application. It may be our proprietary Coilmatic™ high-efficiency evaporator, a special low-flow evaporator, or a space-saving brazed plate evaporator.
Secondary coolant loops: This additional heat exchanger installed between the evaporator and the process prevents freezing in certain systems, especially for applications in which the secondary coolant is deionized water, oil, or thermal fluid, or when a large temperature drop is required. Secondary pumps and tanks are also available.
Stainless steel pump and tank: Our completely corrosion-resistant centrifugal circulating pump has a high-efficiency impeller, centerline connections, and mechanical seal. This design is available for a wide range of coolants.
Brazed copper piping: This long-lasting material wards off damage and rust. Pipes are fully insulated with bronze valves. For deionized water or food applications, stainless steel or CPVC piping is optional.
Microprocessor controls: Our intuitive system features an easy-to-use digital thermostat, plus high- and low-pressure refrigerant gauges, pump pressure gauge, tank sight tube, and internal refrigerant sight glass. Controls come in °F or °C and a remote interface optional. Extra digital thermometers are available.
Safety package: Protect your team with this bundle of smart safety features. The package includes high/low refrigerant pressure safety switch, pressure relief device, motor overload protection, line and control circuit fuses, and a pump switch interlock.
APPLICATIONS
Designed and built for the most demanding applications in food, pharmaceuticals, biotechnology, plastics and rubber, chemicals, metalworking, and nuclear science, our attention to craftsmanship provides peace of mind for your most critical applications. We strive to ensure consumer health and safety as well as product quality in the industries we serve.
Confidentiality Notice
This drawing and information contained herein are the exclusive property of Scientific System LLC and shall be returned upon demand and shall not be reproduced in whole or in part, disclosed to anyone else or used, without written consent of Scientific Systems LLC.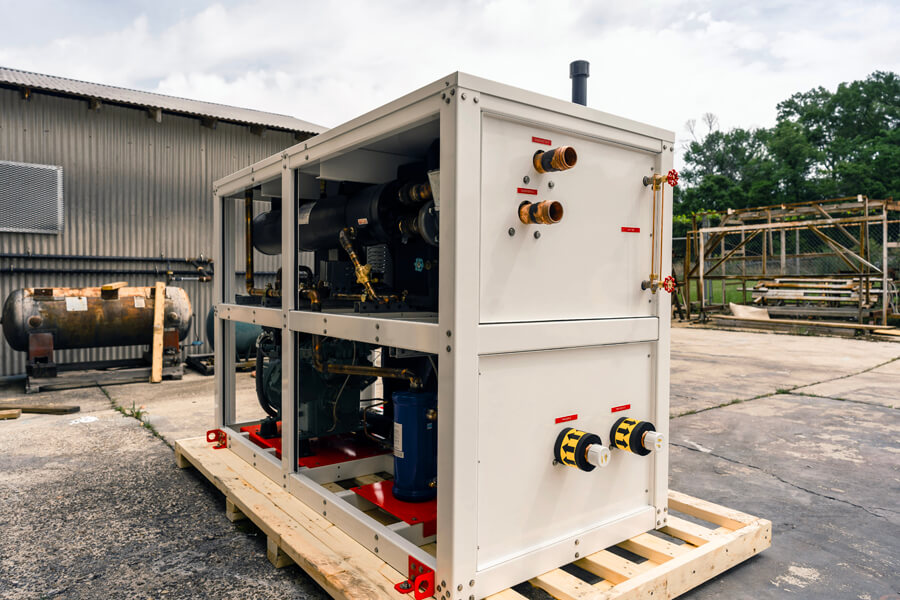 Fill out and email to sales@scientificsystem.com
---