Portable chillers for heavy-duty industrial cooling down to -30°F
GCI Refrigeration Technologies provides portable heavy-duty industrial coolers capable of reaching a low temperature of -30°F. Each of our air condensing chillers is custom-built to support your necessary applications using heavy-duty, corrosion-resistant stainless steel, with a compact design that can be easily moved with integrated casters. In addition, any of our portable chiller models can be Icewagon Portable Chillers. 
Types of Air Condensing Chillers
Your chiller will be outfitted with a job-specific evaporator designed for your desired application. Options include GCI's own Coilmatic™ high-efficiency evaporator, a special low-flow evaporator, or a brazed plate evaporator.
With our unique ChillersDirect­­™ program, you'll work directly with one of our factory experts. They will help you build the ideal custom air condensing chiller for your needs, considering your applications as well as your capacity and power requirements.
When you receive your DS Series Icewagon™ Chiller from GCI Refrigeration Technologies, just install it by connecting your electrical and liquid inputs. If you run into trouble, get in touch with our 24/7 service team. Call 225-926-6950 or complete our form today for your free chiller quote.
Our industrial coolers can be built to include your choice of features, including but not limited to:
FEATURES
A long-life semi-hermetic compressor designed specifically for heavy-duty industrial refrigeration
Hot gas bypass to deliver precise temperature control, decrease energy use, and reduce the wear and tear of constant on-off compressor cycling
Corrosion-resistant stainless steel centrifugal circulating pump with high-efficiency impeller, centerline connections, mechanical seal, and the ability to efficiently handle low-temperature fluids
Fully insulated brazed copper piping with bronze valves
Intuitive microprocessor control with a digital thermostat, refrigerant sight glass, tank sight tube, and both high-pressure and low-pressure gauges
Comprehensive safety package with pump switch interlock, control circuit and line fuses, protection from overloaded motor, pressure release, and refrigerant pressure high/low safety switch
APPLICATIONS
These air condensing chillers are appropriate for use in the medical, nuclear, and food industries where low temperatures are required to maintain safety and quality. Double insulation, subcoolers, and oil separators within these systems are designed to support optimal performance even at the lowest sub-zero temperature functions. Choose from outdoor and split systems, including completely stainless models for food applications and options like integrated heaters, oversize tanks, specialized pumps and currents, weatherproofing, and custom paint.
Confidentiality Notice
This drawing and information contained herein are the exclusive property of Scientific System LLC and shall be returned upon demand and shall not be reproduced in whole or in part, disclosed to anyone else or used, without written consent of Scientific Systems LLC.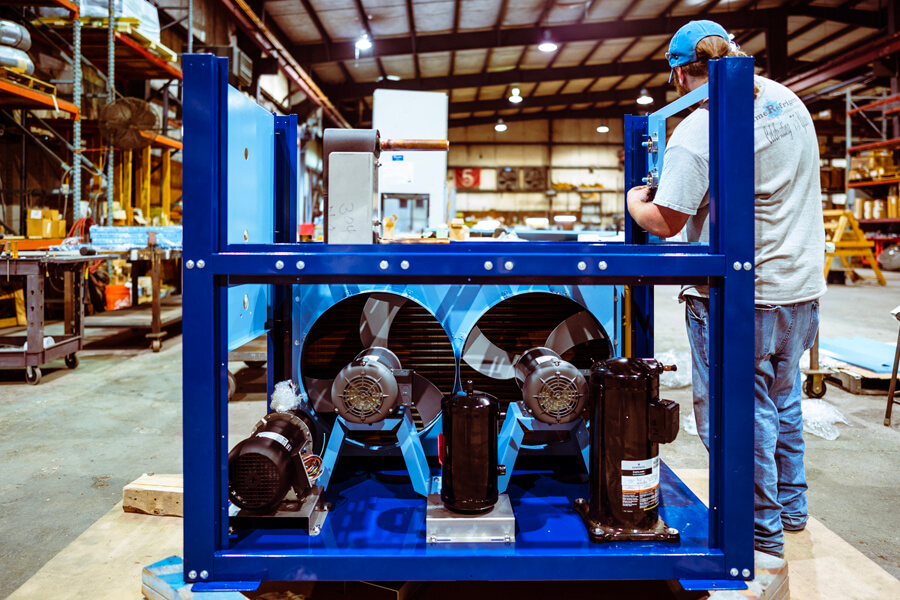 Fill out and email to sales@scientificsystem.com
---