GCI Refrigeration Technologies provides custom explosion-proof chillers designed specifically to meet the demands of the growing cannabis extraction industry. As marijuana becomes legalized in more states across the country, this burgeoning industry continues to expand with new products featuring cannabis and CBD concentrates. However, the laborious process of extraction requires a highly controlled environment to prevent dangerous combustion. In fact, there have been reported cases of explosions, fires, and worker injuries across the country in marijuana manufacturing facilities that do not have the proper equipment. Don't let that happen to your business—GCI Refrigeration Technologies can help.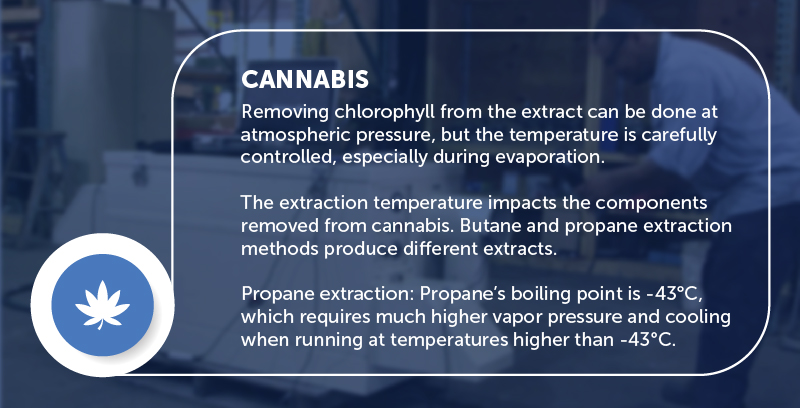 Custom CBD & Cannabis Extraction Chillers
Our industrial chillers are designed to meet Class I, Division 1 and 2 requirements to keep your marijuana extraction facility safe and compliant. Since cannabis extraction relies on large amounts of butane, ethanol and propane, it is vital to outfit your lab with explosion-proof equipment that provides adequate and controlled airflow. We can work with any budget and project scope to help deliver a durable, heavy-duty chiller ready for installation at your site. Our steel frame designs can be equipped with dual compressors to create total redundancy within the same machine. Additionally, our safety package includes motor overload protection, pump switch interlock, and high/low refrigerant pressure safety switch to failsafe your operations. Choose between water and air condensing models, with additional options that feature long-life, semi-hermetic compressors and can reach low temperatures below -30°F to -75°F .
Work With GCI Refrigeration Technologies Today
Whether you're just getting started in the marijuana manufacturing industry or looking to grow your business with a new facility, let our refrigeration experts help design a chiller that will fit your operations. We take the time to get to know your business from the start and are passionate about providing the best technology and materials available to produce durable, long-lasting solutions. Explore our full line of products and request more information to get a quote for your project today.