PBX 20 Air Conditioning with Pressurization Blowers
---
Pre-Assembled and Pretested Systems
Industrial control rooms, analyzer buildings, motor control centers, and other installations in or near hazardous or dusty locations require both air conditioning and pressurization. NFPA, API, and related industrial codes mandate the building pressure and the airflow across doors or other openings that must be maintained. Pre-assembled and pretested PB(X) 20 systems provide these functions automatically. The control panel includes controls for setting and monitoring room temperature, pressure, and pressure loss alarm.
Models specified as "Explosion Proof" comply with Articles 500-503 of the National Electric Code (NEC) for Class I, Groups C and D or Class II, Groups F and G, Divisions 1 and/or 2.
Our PB(X) 20 systems feature a low noise, Vari-Speed blower, automatically maintaining the desired building pressure. The air supply can be limited to the amount required to offset air loss from the pressurized structure and door openings. The results are lower heating and cooling requirements, substantial energy conservation, and lower operating costs. Gone are sluggish responses and the repeated need to adjust and maintain damper-controlled designs with the PB(X) 20.
Maximum makeup airflow can be specified in the range of 1300 to 6000 cu-ft per minute. The matched air-conditioning system operates in a recirculating mode. Ample external static pressures allow for any required distribution ducts. Cooling capacities range from 2 to 50 tons. The built-in housing will accept a wide variety of air filters for particulate or gas-phase corrosion and odor control media. Additional PB(X) 20 options include an audible pressure loss alarm, timer-controlled air purge, and gas detectors.
Features of a PBX 20 System
Provides pressurization, air conditioning, heating and air filtration in one pre-assembled module.
Pressure is adjustable from 0.025″ to 0.50″ w.c.
Fully automatic; speed modulated blower maintains preset pressure.
Eliminates problems associated with damper-controlled systems.
Minimizes heating and cooling losses.
Explosion-proof Class I, Groups B, C or D, and Class II, Groups F and G in Div. 1 or 2 (*)
Cooling capacities from 2 to 50 tons.
Skid-mounted, pretested system for quick installation and trouble-free start-up.
Filters for dust, odor (*) and corrosion (*) control.
Control panel has Pressure and Temperature Controls and Display, Pressure Loss Alarm Contacts, and Purge (*) Controls
Smoke, Hydrocarbon, or Specific Gas Detectors with Alarm and Automatic Shutdown (*)
Full Redundancy with Automatic Switchover (*)
Blower Maintenance without Pressure Loss (*)
Corrosion Resistant Coatings and Coil Finish (*)

(*) Optional Feature
Application of a PBX 20 System
Control Rooms
Analyzer Buildings
Compressor Stations
Motor Control Centers
Offshore Oil and Gas Platforms
Grain Elevators
Steel Mills
How to Order a PBX 20 System
1. Determine the maximum airflow required by the PB or PB (X) 20 (explosion-proof) pressure blower. NFPA 496 requires a minimum of 60 feet per minute across the door and other room openings.
2. Determine cooling and (optional) heating capacity for the air conditioning module. For computer-assisted load calculation, contact factory and request Technical Support Bulletin HVLO1FRM.
3. Determine hazard classification outside the pressurized structure, e.g., NEC Class I, Group D, Division 2.
4. Determine the model number following the description below.
5. Select additional options and accessories that may be required. Order these items separately.
6. For technical or pricing information for your PB or PB (X) 20 pressure blower, contact your local representative or Sales Engineering at 225-926-6950.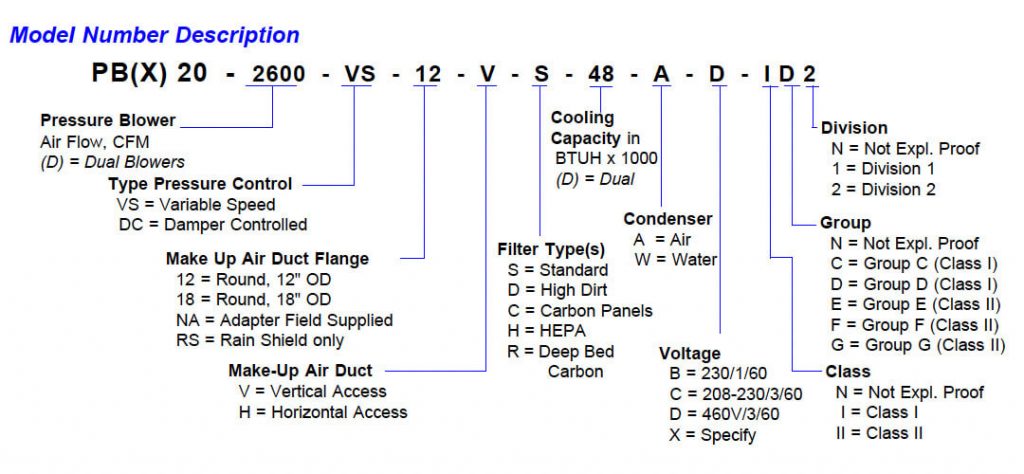 Confidentiality Notice
This drawing and information contained herein are the exclusive property of Scientific System LLC and shall be returned upon demand and shall not be reproduced in whole or in part, disclosed to anyone else or used, without written consent of Scientific Systems LLC.