PBX 10 Series – Explosion Proof Pressurization Blowers
---
For Maintaining Room Pressurization & Air Flow
PB(X) 10 Series Pressurization Blowers are the economical solution for maintaining positive room pressure. Where buildings in hazardous locations must be operated under specified positive pressure and air flow, these blowers offer a convenient means to achieve compliance with NFPA 496. We offer a range of explosion proof models for National Electric Code Class I, Groups B(*), C and D and Class II, Groups F and G under Divisions 1 or 2 to both U.S. and Canadian standards. Models are also available with dual blowers and automatic switch-over controls for applications that require full pressurization redundancy.
All PBX 10 Series models are pre-assembled and pretested. Included are adjustable pressure set controls, Magnehelic gage pressure readout, and start/stop controls. Pressure maintenance is fully automatic. Any previous requirement for high maintenance barometric damper controls is eliminated. Room pressure can be preset and displayed anywhere in the range of 0.025″ to 0.20″ w.c. . A Vari-Speed controlled pressure blower provides air flow up to 2600 cfm and continuously maintains the preset room pressure. With entrance doors closed, the air flow is precisely modulated to offset air losses from building leakage. When a door is opened, the air flow immediately increases to provide the 60 fpm minimum velocity through the opening as required by code. The available makeup air is sufficient to service rooms and buildings that have one or two access doors. Applications that require simultaneous air conditioning, higher air volumes, high external static pressures or special air filters can be met with Series PB(X) 15, PB(X) 20 or PB(X) 24 equipment.
PBX 10 Series Features
Automatic Building Pressure Control adjustable from 0.025 to 0.20″ w.c.
NEC Class I, Groups B*, C + D and Class II, Groups F and G for Divisions 1 and 2
Meet NFPA 496 and Similar Industrial Codes
Single or Dual (Redundant) Blower Models
Minimizes Heating and Cooling Requirements
Slide Out Chassis for Convenient Access
Magnehelic Gauge Pressure Indicator
Pressure Loss Alarm Contacts with Time Delay
VariSpeed Blowers Eliminate High Maintenance of Competitive Damper Controlled units
Air Filter Easily Serviced from Front Panel
Additional models (Series 15) available with High Dirt Loading or Deep Bed Gas-Phase Filters
Three-Year Limited Warranty

(*) Division 2 Only
How To Order The PBX 10 Series
1. Determine the required air flow and hazard classification, i.e. 1100 CFM and Class I, Group D, Division 2.
2. Determine the PBX 10 Series model number using the description shown. For applications requiring air flow greater than 2600 CFM use Series PBX 15 or PBX 20.
3. Next select any additional options and accessories that may be required. Order these items separately.
4. For technical or sales information call your local representative or our Technical Service at 225-926-6950.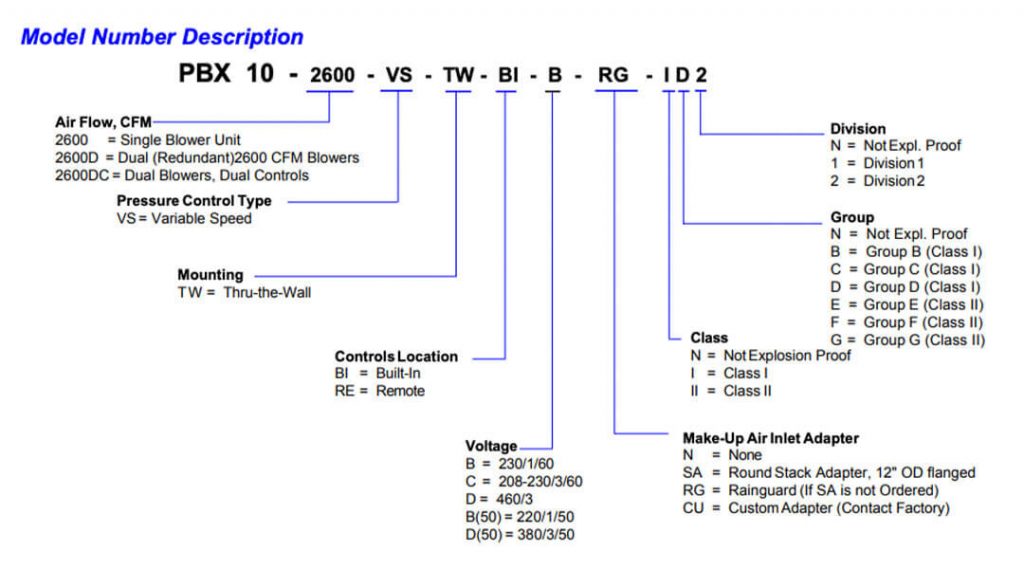 Confidentiality Notice
This drawing and information contained herein are the exclusive property of Scientific System LLC and shall be returned upon demand and shall not be reproduced in whole or in part, disclosed to anyone else or used, without written consent of Scientific Systems LLC.