PBX15 Series – Explosion Proof Pressurization Blowers
---
For Maintaining Room Pressurization & Air Flow
Control and computer rooms, offices and manufacturing facilities in dusty, corrosive or hazardous locations require both pressurization and air filtration. Positive room pressures and minimum air flows across door openings are mandated by NFPA 496 and other industrial codes. PB 15 units provide these functions automatically with one compact, pre-assembled and pretested system. Explosion proof models meet the requirements of Articles 500-503 of the National Electric Code (NEC) for Class I, Groups C and D or Class II, Groups E, F and G, Divisions 1 and 2.
A control panel in the conditioned space facilitates setting and monitoring the desired room pressure. This pressure is then automatically maintained by variable speed, low noise blowers. Only the amount of make-up air required to offset losses from building leakage and door openings is supplied. A choice of PBX 15 series models provides air flow up to 6250 cu- ft per minute at standard or high static pressures. A built-in filter housing can be fitted with a choice of special filters including filters for particulate, corrosion or odor control. Deep bed carbon filters are available with either standard or modified carbon packings.
PBX 15 series systems provide significant savings in both initial equipment and long-term operating costs. The automatic air flow control reduces the capacity requirements for both air conditioning equipment and for air filters. Gone are sluggish response, need for constant adjustments, and high maintenance of pressure controlled mechanical dampers. Options include an audible pressure loss alarm, time-controlled air purge, filter alarm, and specific gas sensors.
How To Order The PBX15 Series
1. Determine the maximum air flow required by the PB or PBX (explosion proof) pressure blower. NFPA 496 requires a minimum of 60 feet per minute across all door and other room openings
2. Determine hazard classification outside of the pressurized structure, e.g. NEC Class I, Group D, Division 2.
3. Determine the model number following the description.
4. Select additional options and accessories that may be required. Order these items separately. For systems requiring special particulate, chemical or carbon filters contact factory for computer sizing.
5. For technical or pricing information contact your local representative or Sales Engineering at 225-926-6950.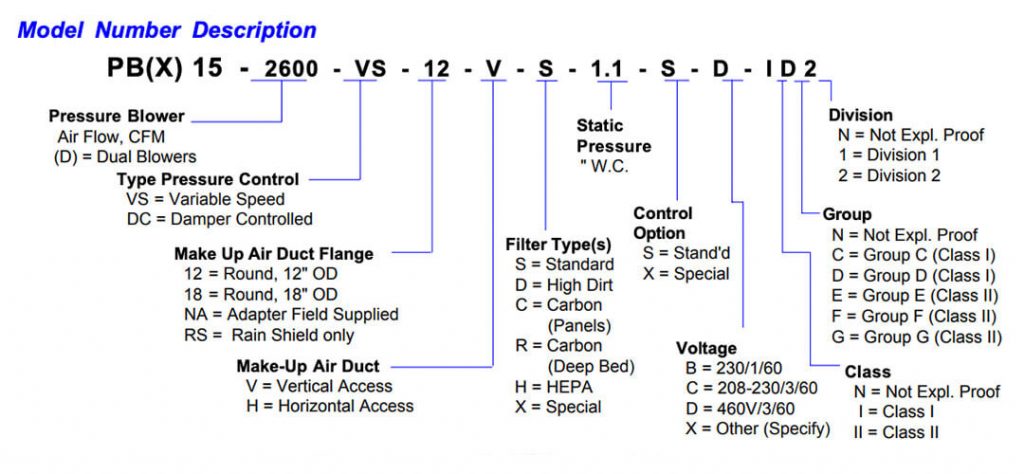 PBX15 Series Features
Automatic Building Pressure Control and
Air Filtration in one Pre-assembled Module
Pressure Adjustable from 0.025″ to 0.50″ w.c.
Fully Automatic; Speed Modulated Blower Maintains Preset Pressure
Eliminates Problems of Damper Systems
Minimizes Heating and Cooling Losses
Explosion Proof Class I, Groups B, C or D and Class II, Groups E, F and G in Div. 1 or 2(*)
Blower Capacities to 6250 CFM
Skid Mounted, Pretested System for Timesaving Installation and Start-Up
Filters for Dust, Odor(*) and Corrosion(*) Control
Control Panel with Pressure Readout,
Pressure Loss Alarm, and Purge Controls(*)
Smoke, Hydrocarbon or Specific Gas Detectors with Alarm and Automatic Shutdown(*)
Full Redundancy with Automatic Switchover(*)
Allows Component Isolation for Maintenance
Corrosion Resistant Coatings and Coil Finish(*)

(*) Optional Feature
PBX15 Series Applications
Metal Smelters and Mills
Pharmaceutical Plants
Paper Plants
Grain Transfer Silos
Motor Control Centers
Switchgear Buildings
Confidentiality Notice
This drawing and information contained herein are the exclusive property of Scientific System LLC and shall be returned upon demand and shall not be reproduced in whole or in part, disclosed to anyone else or used, without written consent of Scientific Systems LLC.