Severe Duty Air Conditions with Pressurization
Industrial buildings in hazardous or dusty locations require both air conditioning and pressurization. NFPA 496, API, and other industrial codes dictate specific pressures and airflow across door openings. The PB(X) 24 Series is designed to provide air conditioning and pressurization in one compact, pre-assembled and pretested module.
The desired building pressure is automatically maintained. A low noise, Vari-Speed blower supplies the exact volume of clean make-up air required to offset building air leakage and air loss from door openings.
Our industrial-grade PB(X) 24 air conditioners are built for ruggedness, performance, and reliability. Cabinets are 14 ga galvannealed steel, corrosion protected with a two-part epoxy primer and urethane topcoat. Drain pans are stainless steel. A type 316 stainless steel cabinet is optional. All mechanical and electrical components of the PB(X) 24 series, including switches and annunciator lights, are industrial grade. Blowers are belt-driven with adjustable speed pulleys. Bearings are pillow block type or permanently lubricated. All motors are enclosed (TEFC) with a 1.15 service factor.
The wide range of PB(X) 24 options include redundant pressure blowers, gas and smoke detectors, steam or electric heaters, SaveCoil 101* baked phenoxy coil coating, and water-cooled condensers.
Features of the PBX 24 Series
Building Pressurization, Air Conditioning, Heating and Air filtration in one Pretested Module
Explosion Proof models for Classes I or II, Groups B, C, D, E, F and G in Divisions 1 and 2.
Compliance with NFPA 496 and API Codes
Designed for Severe Industrial and Marine Service
Automatic Room Pressurization System Minimizes Heating and Cooling loads
Control Panel with Pressure Readout, Pressure Loss Alarm, and Thermostat
Cooling Capacities from 3 to 12.5 tons
Compacts Vertical Design has Minimum Footprint
Steam or Electric Heat*
Corrosion Resistant Stainless Cabinets and Savecoil 101 Coil Coatings*
Three-Year Limited Warranty on Entire System

* Optional

** For Higher Make-Up Air Volume or Gas-Phase air filtration, the PB 20 Series should be specified.
Applications for a PBX 24 Series
Industrial Control Rooms
Process Analyzer Buildings
Motor Control Centers
Offshore Oil & Gas Production Platforms
Gas Pipeline and Compressor Stations
Chemical and Pharmaceutical Plants
Grain Transfer and Storage Facilities
Steel Mills
Silicon Production and Processing
How to Order a PBX 24 Series
1. Determine the maximum volume of make-up air required. NFPA 496 specifies a minimum of 60 feet per minute across the door and other room openings. The same velocity is also suggested for preventing dust infiltration.
2. Select desired control housing of NEMA 2 (Drip-proof) or NEMA 7 (Explosion-proof).
3. Specify make-up air duct flange, air discharge direction, side for pressure blower installation, and power required.
4. Determine cooling and (optional) heating requirements. To request computerized load calculations of the PB(X) 24, use Technical Support Bulletin HVLO1FRM.
5. For explosion-proof PB(X) 24 models, determine the hazard classification, e.g., NEC Class I, Group D, Division 2.
6. Using the order numbers, select the required PB(X) 24 base model and options.
7. Contact the company sales engineering department for additional technical or price information on the PB(X) 24 series.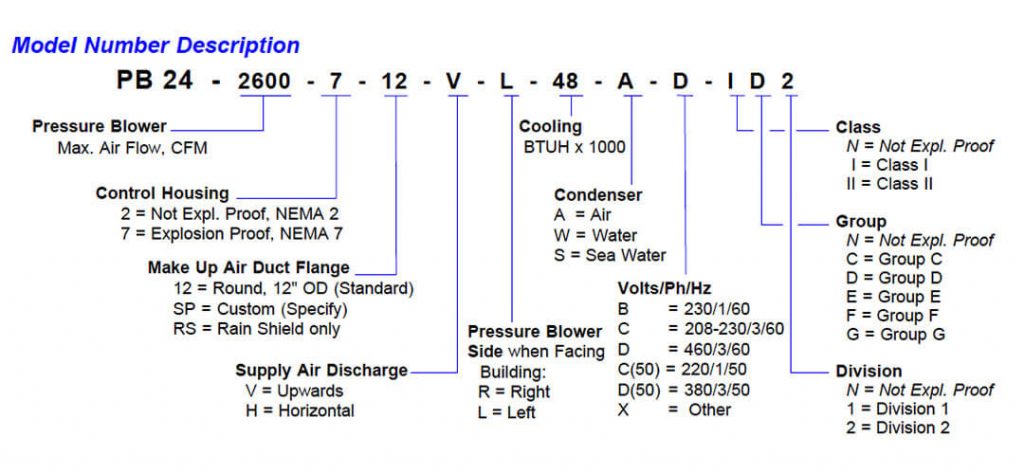 Confidentiality Notice
This drawing and information contained herein are the exclusive property of Scientific System LLC and shall be returned upon demand and shall not be reproduced in whole or in part, disclosed to anyone else or used, without written consent of Scientific Systems LLC.